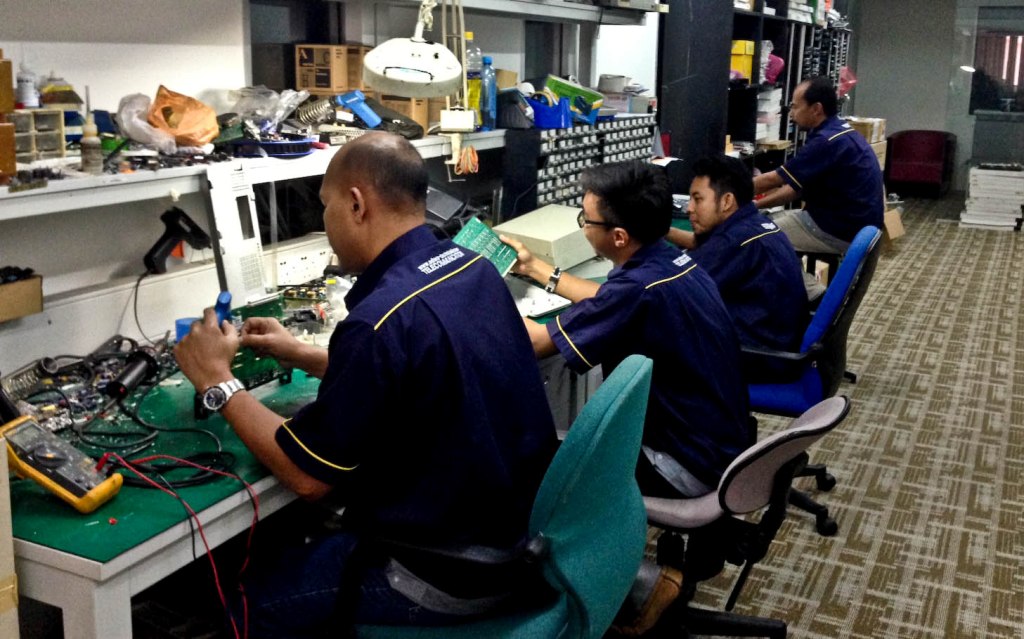 ADWA has been providing the most comprehensive, state-of-the-art, component level electronics repair service in the industry. Whether current or older generation electronics, ADWA has the experience and expertise to provide the right service for your individual needs.
 ADWA's expertise encompasses test, repair and engineering capabilities for a wide range of electronics devices including but not limited to PABX products, analogue and digital printed circuit boards, UPS products, power supplies, RF amplifiers, sub-assemblies, monitors, keyboards, instrumentation and motor controllers across a broad spectrum of industries. Our dedicated staffs of electronic engineers and qualified technicians insures that our customers receive only the highest levels of quality service in analyzing, testing and resolving electronic repair issues.  
ADWA is proud to be a one-source repair solutions company that brings together a unique blend of services that enables itself to be a valued outsourcing service and repair partner for many PABX vendors and government agencies that require full-service support solutions for legacy, out-of-warranty PABX or end of life product support. We are professionals in protecting your customer's investment by offering repair services on electronics products that most other companies can't or won't repair.
Electronic Printed Circuit Board Assembly (PCBA) Repair Services
ADWA is a leader in the repair services of component level repair of subassemblies for a wide range of electronics. We provide a one-source solution not just to fix your product, but to provide you with a long term partnership that can adapt to the needs of your company. We also specialise in legacy, out of warranty and obsolete equipment. We can provide a variety of repair and engineering services customised to your specific requirements.
We provide :                                             
 * Complete Testing/Repair of all PCBA's
 * Complete turnkey outsource partnership
 * End of Life repair and support specialist
 * Complete technical and customer support
 * Modification and upgrades
 * In-Warranty Repair Program
 * Component Inventory and Logistic Support
Some of the types of PCB Repair Programs we are currently involved includes the following:
 * Standard Line Cards for Alcatel 5200, 4100, 4200E, 4300, 4400,
    OmniPCX Enterprise (OXE), OmniPCX Office (OXO) and Ericsson MD110
 * Proprietary PC boards
 * Complex Digital PC Boards
 * Analog PC Boards
 * Custom Designed PC Boards
 * Any PCBA's from PABX
 * Proprietary Digital Multiline (Alcatel & Ericsson) telephones
 * Analog Single Line and Handsfree telephones
 * Any off the shelf boards
We are your one source for all kinds of Printed Circuit Board repairs: 
 * Our services can easily supplement your existing internal repair functions
 * We specialize in OEM partnerships including depot repair
 * Obsolescence is never a problem with ADWA, we can help you with just     about
    any PCBA repair
 * Our meticulous testing facility and processes is fully equipped with custom and
   documented fixtures
 * Flat rate charge for repairs avoids costly time and material issue
 * ADWA's repair success rate is renowned in the local PABX market, based on our
   expertise and testing
 * We test using sophisticated circuit comparators and analyzers; and have tested
    and repaired hundreds of different off-the-shelf products.
*   Our team of engineers are capable of solving the toughest technical challenges,
     meeting the most stringent requirement while insuring reliability.
We Are Your One-Source Repair Solutions Company
 * State-of-the-art testing and repair equipment
 * Flat rate charge avoids costly time & material issues
 * Highly trained certified technicians
 * Custom designed test beds and procedures
 * Repair for products that have little or no data
 * Excellence in customer service and turnaround time
 * Cost effective, responsive reliable repair solutions
 * Up to 3 months warranty on most repairs
 * We offer emergency repair services